Village Shop & Tea Room, Compton in the News
The Village Shop and Tearoom celebrates its 5th birthday!
This birthday, there will be a few changes. Rob and I will have handed the reins over to Caroline Poll who will run it on behalf of Compton, the local community and pledgors from near and far.
Caroline and her family are already part of the local community and her ethos is very much that of Rob's and mine. We are confident that what we have worked so hard to achieve will go from strength to strength under Caroline's new leadership and Elaine's continued and invaluable management skills.
Rob and I cannot thank Elaine enough for her unfailing support, good humour and many talents. Our heartfelt thanks go to Elaine, Carol and all our staff, past and present.
I remember sitting down to write a piece for the Octagon on the first birthday of The Village Shop & Tea Room. I mentioned the six months of sleepless nights during the building work prior to opening on Friday 3rd April 2009 and the folly of thinking that with no experience and in a recession, we could make it work. But it isn't us that have made it work, it is YOU. So to all our customers - locals, walkers, cyclists and regular visitors, many of whom have become friends, I would like to say a HUGE thank you.
Please continue to support Caroline, Elaine and YOUR Village Shop & Tea Room.
Jane Rebeiro
---
Sale of the Shop and Tearoom - Newsletter
---
DEFRA Visits The Village Shop and Tea Room
Robin Bray and Jane Rebeiro welcomed some important visitors to The Village Shop & Tea Room in Compton recently. Bronwyn Hill, Permanent Secretary, DEFRA and Sarah Hendry, Director, DEFRA enjoyed a working lunch together with Paul Hamblin, Director ENPAA, David Butterworth, CEO Yorkshire Dales National Park Authority and Trevor Beattie, CEO South Downs National Park Authority.
They were on a fact finding tour of the South Downs National Park accompanied by Nigel James and Ian McConnell, Area Manager and Area Ranger, SDNPA.
Subjects for discussion included accessibility and sustainable tourism as well as the social and economic well-being of rural communities within the Park.
Click here to see photographs and a full report of the DEFRA visit.
---
Louise Braithwaite paints the Village Shop and Tearoom
Louise visited Compton and painted the Village Shop and Tearoom during the autumn of 2012. Louise is well known for her quirky style of narrative oil paintings which are exhibited in galleries worldwide. Look out for the lucky white dog!
You can see more of Louise's work on her web site at: www.louisebraithwaite.co.uk.
Cards displaying Louise's painting of the Shop and Tearoom can be purchased from the shop.

Below: Louise hands the original painting over to Jane and Rob.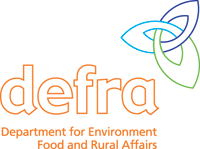 Chichester University Performing Arts Students visit Compton
The undergraduates of Chichester University Performing Arts Department brought their hilarious new musical theatre show 'On Your Marks' to Compton this Easter. The original piece, devised and performed by 17 third year students had an Olympic theme and was enthusiastically received by the 70 strong audience. The dynamic young cast found time to visit The Village Shop & Tea Room during a break from rehearsals where they enjoyed ice cream and home made cakes in the glorious sunshine.
See more photographs of the students at the Village Shop and Tea Rooms, Compton
---

Letter from the Compton Parish Council: 3 April 2012
Happy Birthday Compton Shop
As a birthday cake needs candles so a village needs a shop. The shop serves not only to meet the basic material needs of this small community but also to enlighten it. It is a market place and a meeting place. It is an integral part of village life and an attraction for visitors. Imagine for a moment if the property were transformed into a family residence; the hustle and bustle of greeting and meeting, the buying of news and the spreading of news, that quiet cup of coffee just reading or watching or waiting or chatting, would all be gone and eerily so.
Often when the Parish Council consider local needs we find ourselves describing Compton as the centre because it has the advantages of the church, the school, the pub and the village shop. Each is a manifestation of the essence of the community.
We take this opportunity to thank those who put so much energy, patience and good humour into this enterprise to make it an attraction and a success; we and they know who they are. In return they are entitle to and deserve our loyalty and our support.
Happy Birthday Compton Shop and Tearoom. This year it is 3 candles, and candles can be bought from the village shop. Next year it will be 4 candles; but that may cause confusion.
Anthony Davies: Compton Parish Council
---

Sale of Limited Edition Prints: November 2011
From Saturday 12 November you will be able to purchase original linocut prints of eight Downland churches which make up the Octagon Group of churches:
St Mary, Compton
St Paul, Stansted
St Mary, Stoughton
St Peter, Racton

St Michael, Up Marden
St Peter, East Marden
Christchurch, Forestside
St Mary, North Marden

The prints are the work of Jesssica Maier and are also available as postcards. Both prints and postcards will be on sale until Christmas. A proportion of the profits from the sale of these prints and postcards will be given to the Octagon Youth Group.
Download a poster advertising the sale of limited edition prints from The Village Shop and Tea Room Compton.
---

Compton Features in Sussex Walking Festival: October 2011
The West Sussex Walking Festival takes place over the three days Friday 7th, Saturday 8th and Sunday 9th of October and participants are invited to choose from five walks each day. Walks are grades as follows:
easy, flat walking
country walking with gentle hills
one or two sharper hills
several steep and longer hills
Compton features in Walk 1 on Friday 7th October, with a lunch stop in Compton - you will find a warm welcome and a wide range of refreshments available in the Village Shop and Tearooms!
If you are interested in joining this walk - or any of the other walks click here to download a Registration Form from the West Sussex Walking Festival web site.
---

Village Shop & Tea Room Compton Celebrates Second Birthday: 3 April 2011
The Shop and Tearoom celebrated its Second Birthday in April and was featured in the Spring edition of Taste West Sussex
Listings in West Sussex web sites: Spring 2011
As the excellent reputation of the Shop and Tearoom spreads it appears in local web sites:
Visit Chichester: The shop and tearoom are listed in the "What to See and Do" section of the VisitChichester web site.
Chichester District Council: Details of the shop are listed in the "Find my Nearest Shop" section of the www.chichester.gov.uk web site. This listing also includes a note on the origin of the name Compton: The name Compton comes from a Saxon word 'cumb', which means valley. 'Cumb tun' is a valley farm.
Jane attends a Retailing Masterclass: January 2011
The Village Shop & Tea Room, Compton, in the South Downs National Park near Uppark, opened in April 2009 to the delight of the village and local parish.
In their first year they were nominated for, and won, a prestigious 'Rural Oscar' from the Countryside Alliance for best village shop in the south-east. Co-owner Robin Bray said "I think locals voted for us because they could see our commitment to the community." He also told us "Since the award, the village has been snowed in twice but our amazing staff have trudged in and kept the shop and tea room going and a couple of local friends lent their 4x4 vehicles so that we could collect fresh milk, bread, fruit and veg and even newspapers."
This week co-owner Jane Rebeiro is in central London at a three-day retailing masterclass with Mary Portas, 'Queen of Shops' at The National Skills Academy for Retail. She gained a scholarship place by successfully completing an in-depth questionnaire and a telephone interview with two members of the selection panel. Jane said "They asked searching but pertinent questions and I had to think pretty fast. I was stunned when I received the news that I had been selected. I believe the cost of the course would be around £2,000." She continued, "Robin and I went into this business with no retail or catering experience. The Village Shop & Tea Room has thrived because we correctly identified a need but there is still so much to learn, and it makes sense to learn from the best."
---

The Village Shop and Telegraph Shop Awards 2010
The Daily Telegraph would like you to vote for your favourite small shops in Britain – independent fashion boutiques, bookshops, beauty emporiums, interiors shops, garden centres, delis and even corner shops - and this includes Village Shops; retailers that are holding their own against the big chains and supermarkets, and keeping our high streets alive.
The three shops in each category with the most votes will for a shortlist, from which a panel of Telegraph experts will select a winner. Voting closes at midnight on 10th December 2010. The winning shops will be announced in the Telegraph Magazine and at telegraph.co.uk in February 2011.
If you would like to vote for The Villages Shop and Tearoom, Compton click on the logo above or click here to cast your vote in the Telegraph Shop Awards 2010 - you'll need to scroll down to the bottom of the page to find the Best Corner Shop section.
Click here to download and print a poster to advertise the Award.
---

Chichester Triathalon Passes through Compton: July 2010
The Chichester Triathalon is on Sunday 18th July and the cycle route once again passes through Compton. There are about 400 competitors.
The Triathalon Consists of 600m pool swim in Westgate Leisure Centre Pool, followed by a 42km challenging bike ride out to South Harting and back through Compton and Funtington and finishing with a 10km out and back run finishing on Chichester College front field.
There are several categories:
Male Senior and Female Senior
1st Male Junior (U19)
1st Female Junior (U19)
1st Male Vet (40, 45, 50 and 55)
1st Female Vet (40, 45, 50 and 55)
1st Team
1st Mixed Team (minimum age 16)
See the full details on the Chichester District Council web site
---

Countryside Alliance Award: The Finals, February 2010
We were delighted to be nominated for the Countryside Alliance 'Rural Oscars' in the category 'Best Village Shop / Post Office because it wasn't something we applied for, we were nominated by local customers. Having only been open since April 2009, it was a fantastic surprise to win the Award for the South East Region. The national winner is a co-operative that has been in existence and expanding for six years - so we have something to aim for!

We enjoyed the reception at The House of Lords, rubbing shoulders with the powerful and famous, but the greatest thrill was coming back to the shop and finding what seemed like the entire village in the shop waiting for us with champagne for an impromptu party. It was fantastic to know that we are a valued part of this amazing community.
---

Compton Village Shop and Tea Room wins Award: January 2010
We have won the award for the south-east region for best village shop! Twelve top local businesses, including the Compton Village Shop and Tea Room, were nominated for one of four Countryside Alliance regional titles and the chance of UK-wide acclaim.
The national judging panel, chaired by Countryside Alliance Chief Executive Simon Hart, will now meet to select the overall winners of the 2009 Awards. These winners, alongside the winners of the Rural Hero, Westminster and Grassroots Awards, will then be announced at a Parliamentary reception in London on 3 February 2010. We shall be there!
The Countryside Alliance Awards, now in their fifth year, celebrate the characters, skills, traditions and enterprise of the countryside through the people who work so hard to make it tick. Each finalist has received numerous nominations from adoring customers and supporters.
Thanks to all our customers and supporters who kindly nominated us for this award!
See the full details on the Countryside Alliance web site.
---
Compton Parish Council Autumn Newsletter 2009
"For our parish, the shop and post office is a vital lifeline for many people, especially those without transport, it is an important connection with the world beyond their front door. It is a meeting place, communication centre and an important lynchpin of parish life".
These comments formed a part of a questionnaire written in June 2008 when the future of the shop was under threat.
Today, six months after its reopening, if there were any doubt as to the truth of these words a visit on any day will dispel them. Passing visitors chat with parishioners over coffee, impromptu meetings are held on school matters and tennis tournaments. Bread, milk and the other staples of daily living are purchased whilst catching up with the ebb and flow of village life. Everywhere there is friendly, relaxed interaction and informality that has been a characteristic of the "village" shop for centuries. Long may it continue!
---
The Rural Development Programme (RDP) Leader Funding
Leader helped reinstate the village store in Compton and convert part of the adjacent building to create a tea room. A grant was awarded after the parish council organised a series of meetings and a survey demonstrating that local residents supported the project. The shop and tea room opened in April 2009.
The Rural Development Programme is jointly funded by the EU, through the European Agricultural Fund for Rural Development, and the Government.
The Leader approach is a delivery mechanism under the new Rural Development Programme for England (RDPE) 2007-2013. Also known as Axis 4, the Leader approach is not a scheme, fund or set of objectives, but is a method of harnessing local knowledge to enable a "bottom up", community led approach to delivery of RDPE funding in rural areas. The Leader approach can be used to deliver a range of Programme objectives, and will help achieve integration.
Visit the Rural Development Programme Leader Funding page of the West Sussex County Council web site
---

taste west sussex
The Village Shop & Tea Room, Compton featured in the Autumn/Winter 2009 edition of taste west sussex - click here to see the on-line version of taste west sussex and then click on the section titled THE LOCAL STORE to read about village shops in West Sussex and the Village Shop and Tea Room in Compton.
The magazine notes that "The Village Shop & Tea Room opened earlier this year and has already become known as a shopping, meeting and eating place popular with locals, walkers and visitors.
The shop sells a wide range of local products from sausages and strawberries to bread and honey.
It also serves tea, coffee, hot chocolate, soft drinks, seasonal quiches, baps and rolls, cream teas and delicious home-baked cakes – all made with locally sourced produce where possible. These are available to eat inside, outside or to take away."
---
Chichester Observer 16 April 2009: Hard work pays off as Compton store reopens
Click on the link to read the article about the opening of the Village Shop & Tea Room as reported in the Chichester Observer.